UK APOSTILLES
Everything You Need To Know
---
Legalisation can be a complicated procedure. With various terms for what is essentially the same process, and a range of factors affecting the process depending on your personal circumstances, things can get stressful.
We're here to guide you through document legalisation within the UK, by focusing on the stage that everyone with a UK-issued document will be required to complete. The process can be full of pitfalls for the uninitiated, so we've created this definitive guide which covers everything you will need to know.
Update: As of October 2020, the Foreign and Commonwealth Office changed their name to the Foreign, Commonwealth and Development Office (FCDO).
---
Melanie Clarke is a Digital Marketer at Vital Consular. She has produced a wealth of support material on the processes of Legalisation for use in Vietnam and was previously a member of the sales team at Vital for several years.
If you're taking a document issued in one country, and presenting it for official purposes in another, it's likely it will need to go through a process known as legalisation. This is sometimes also known as attestation or authentication, though they're essentially the same process.
Legalisation is a procedure of verification of a document's authenticity. This does not always automatically mean that the contents of the document are true and accurate, however, simply that it is either a genuine government-issued document or a true copy of an original certified by a registered solicitor.
With such variation between documents around the world, this process of legalisation helps ensure that any documents being presented overseas have been through a procedure designed to reassure the recipient that the document is genuine.
An Apostille is the first stage of legalisation in any country which is a member of the Hague Apostille Convention. This is an agreement between member states of the Hague Convention who are willing to accept documents issued in each other's jurisdiction with an Apostille stamp issued in the document's country of origin.
Any documents being presented in countries outside of this agreement would require a further consular stamp after the Apostille, from the embassy of the destination country.
The agreement was designed to streamline paperwork processes between member states for anyone who was born, married, studied or deals with any other personal or business paperwork. First effective in 1965, there are currently 116 parties in the agreement, which you can see further on in the article.
Although Apostilles contain the same information wherever they're issued, they can look slightly different. Some member states apply a template stamp to the back of the document and complete the information by hand, followed by an official seal. Others such as the UK, affix a small certificate to the reverse of the document with the information printed onto the certificate.
The Apostille will always be in the official language of the issuing country. However, there are 10 pieces of information which are universal across all Apostilles, to ensure anyone can identify the information they require, regardless of language.
In the UK, to ensure an Apostille isn't removed from one document and applied to another, the Apostille and document are embossed, or "donked", together by the FCDO. They also contain a unique serial number, which can be verified on the official site of the issuing government.
Some examples of Apostilles from different countries, including Bosnia & Herzegovina, Italy and the UK
---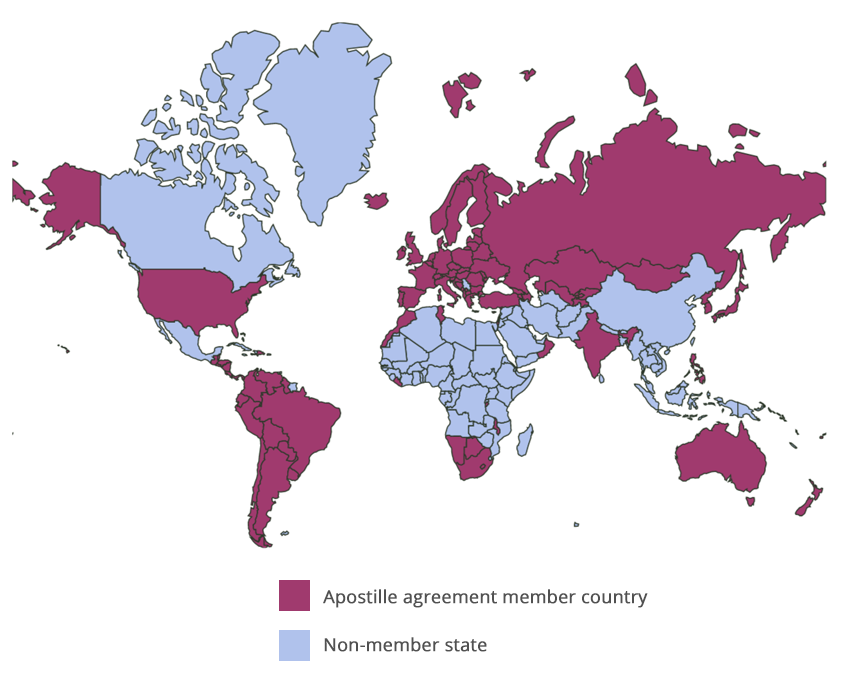 This is a map illustrating all of the member states of the Apostille Agreement as of March 2020. For a full list of the member countries and states please see below. Please note that whilst Canada is not an official member of the agreement, they do on occasion request and accept Apostilles from member states as a form of verification of a document's authenticity.
Also be aware that just because a country is a Hague member does not automatically mean they are part of the Apostille Agreement, as this treaty is simply part of a suite of private international laws and protocols.
APOSTILLE AGREEMENT MEMBER STATES
Albania
Andorra
Antigua and Barbuda
Argentina
Armenia
Australia
Austria
Azerbaijan

Bahamas
Bahrain
Barbados
Belarus
Belgium
Belize
Bolivia
Bosnia and Herzegovina
Botswana
Brazil
Brunei Darussalam
Bulgaria
Burundi

Cape Verde
Chile
China< (Hong Kong & Macao Only)
Colombia
Cook Islands
Costa Rica
Croatia
Cyprus
Czech Republic

Denmark
Dominica
Dominican Republic

Ecuador
El Salvador
Estonia

Fiji
Finland
France
Georgia
Germany
Greece
Grenada
Guatemala
Guyana
Honduras
Hungary

Iceland
India
Ireland
Israel
Italy

Japan

Kazakhstan
Korea, Republic of
Kosovo
Kyrgyzstan

Latvia
Lesotho
Liberia
Liechtenstein
Lithuania
Luxembourg

Malawi
Malta
Marshall Islands
Mauritius
Mexico
Moldova, Republic of
Monaco
Mongolia
Montenegro
Morocco

Namibia
Netherlands
New Zealand
Nicaragua
Niue
North Macedonia, Republic of
Norway
Oman

Panama
Paraguay
Peru
Philippines
Poland
Portugal

Romania
Russian Federation

Saint Kitts and Nevis
Saint Lucia
Saint Vincent and the Grenadines
Samoa
San Marino
Sao Tome and Principe
Serbia
Seychelles
Slovakia
Slovenia
South Africa
Spain
Suriname
Swaziland
Sweden
Switzerland

Tajikistan
Tonga
Trinidad and Tobago
Tunisia
Turkey

Ukraine
United Kingdom of Great Britain
and Northern Ireland
Uruguay
Uzbekistan

Vanuatu
Venezuela
Any documents issued in the UK, being presented overseas, will require an Apostille stamp if being used for official purposes. This could include, but is not limited to; applying for a residency or work permit, company formation, passport applications, school registration or a marriage abroad.
Some document types must be legalised on the originals such as anything issued by the government, including birth, marriage and death certificates. Other documents can usually be processed on a certified copy made by a solicitor, as long as you've checked with the person you're presenting it to that this is acceptable. This is common for education documents, for example.
If you have a digital document, which is becoming more commonplace, this is usually printed and certified by the solicitor as a hard copy.
In the UK, the Foreign, Commonwealth and Development Office (FCDO) are the only official body authorised to issue Apostilles. Anyone can apply for the stamp, though the general public are only able to do so via their postal service. If you would like this turned around urgently, you will need to use an agent who are registered to attend the FCDO in person for same-day processing.
In other countries, the legislation around their issuance varies. For example, some countries allow local government authorities and courts to issue Apostilles. In the US, they are handled by each individual state rather than one centralised office as in the UK.
The validity of an Apostille depends on where you intend to use it. Technically, it never expires once issued, however there are some situations which can change this.
For example, if you have an Apostilled document and later decide to move to certain countries outside of the Hague Convention, you will be required to re-process this stage. One example of this is China, where any paperwork you present for your Work Permit application must have been Apostilled within the last 6 months.
In France, if you have a personal document to be used overseas, it must be a version issued within the past 3 months before it can be Apostilled and legalised. Therefore, the Apostille itself hasn't technically expired, but the document itself is not fit for purpose for use overseas. Therefore, with so many variables, we always recommend you check the requirements on a case by case basis to avoid any delays or lost fees by processing a document erroneously.
Moving to a new place can be both exciting and scary. We're here to help you concentrate on the exciting a little bit more.
Vital Consular has been legalising documents since 2006. We've developed a global network capable of processing documents from over 150 countries, so whatever your requirements, we're confident we can help.
Once your Apostille has been applied to your document, it is then classed as fully legalised for use in other member states. However, dependent on its usage you may require further steps. This could include a translation of the document, if for example you are getting married in Greece, where you will be required to have a set of documents translated and verified by the Greek Consulate in London.
If you are using documents to apply for a place at an educational institution, some countries may require you to have your existing qualification or school letters go through an equivalency process.
To ensure you are following the correct processes for your personal circumstances, it's always best to check directly with whomever you will be presenting your paperwork to once you reach the country you are travelling to. Once you have the specifics, get in touch with our team of friendly specialists who can advise you further on how to go about these procedures.